Which yucatan island to choose: holbox, mujeres, cozumel or contoy?
3 min read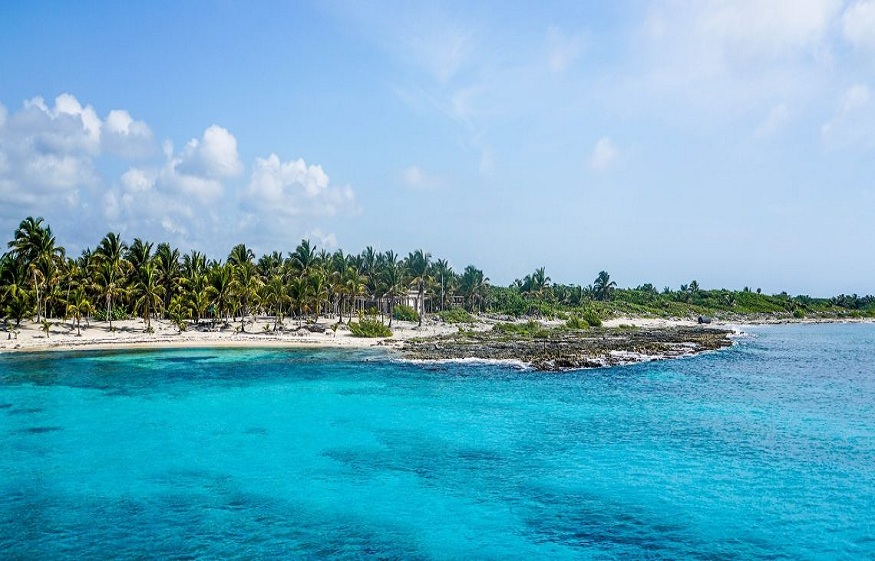 The Yucatan Peninsula in Mexico is full of heavenly places like Bacalar and its sublime lagoon or Tulum and its ruins by the water. But beyond the wonders of the continent, many islands also delight travelers: Holbox, Isla Mujeres, Cozumel or Contoy… Which Yucatan island should you choose? Each with its own style and atmosphere, here is our comparison of the Yucatan islands.
ISLA HOLBOX: A YUCATAN ISLAND STILL PRESERVED FROM MASS TOURISM
Holbox is a nice little island 30 minutes by ferry from the north of Yucatan (Chiquila). Here, there are no cars, travel on the small island is done either on foot, by bike or by golf cart. And for good reason, the island is only a few kilometers long and the main accommodation and activities are close to the center of the island.
Holbox offers everything you would expect from a Yucatan island: fine sandy beaches, coconut palms, turquoise water, quality accommodation and a relaxed way of life that allows you to rest during your stay. A paradise still preserved from mass tourism, the links with the mainland are more and more numerous and many tour operators have now added the island to their catalog. Don't delay to come and discover this magnificent piece of land before the ravages of tourism…
Find out everything you need to know about Holbox in our article dedicated to the island of Holbox .
WHERE TO SLEEP IN HOLBOX?
Villas el Encanto Holbox : A hotel in the heart of the island of Holbox that offers bungalows with ocean views. Certainly one of the cheapest on the coast but sufficiently well equipped to make your stay a pleasant experience…
Flamingos Beach Front Villas : A hotel that has it all: several adult and children's swimming pools, rooms with ocean views, private beach, terrace and restaurant. Definitely one of the best value for money in this area.
Aldea Kuká : a brand new hotel that mixes modernity and tradition. The rooms are immaculate with, for the most part, an ocean view. In a contemporary style and great luxury, you will enjoy the beach, terrace and private swimming pool with ocean view. An extraordinary experience to live…
ISLA MUJERES: AN ISLAND IN YUCATAN RENOWNED FOR ITS FESTIVE ATMOSPHERE
She is watching you from Cancun, and for good reason, Isla Mujeres is just opposite the largest city in Yucatan. Suffice to say that the calm is not there. To you the itinerant salesmen who wait for the tourists with each descent of boat, the overpriced shops and the concrete hotels. Isla Mujeres has clearly lost its charm and splendor because of its location a little too close (and too easy) to Cancun.
To enjoy it without too many people, the easiest way is to go to the other side of the island to find calmer waters but with more rocks as well. Here, there is nothing and therefore, no shade either… If you come to Isla Mujeres, you will have to choose between the beaches of the very lively hotels but with all the amenities or wilder spaces…
WHERE TO SLEEP ON ISLA MUJERES?
Suite Isla Mujeres : Enjoy a fully equipped apartment with balcony and ocean view, not to mention 2 swimming pools and an ideal location near the beaches. Certainly one of the best value for money on the island.
Bahia Tolok : contemporary decoration for this establishment which offers rooms and studios with all modern comforts. Swimming pool, private beach and hammocks in the water to enjoy all day long!
COZUMEL ISLAND: A DIVER'S PARADISE
Located just opposite Playa del Carmen, the island of Cozumel attracts millions of tourists a year. And yet, despite this daily crowd, the island has managed to keep one of its jewels almost intact: its seabed. Indeed, Cozumel is a paradise for scuba divers and snorkeling enthusiasts. And for good reason, it benefits from stories rich in flora and aquatic fauna.