Traveling with saudia airlines: reviews and feedback
5 min read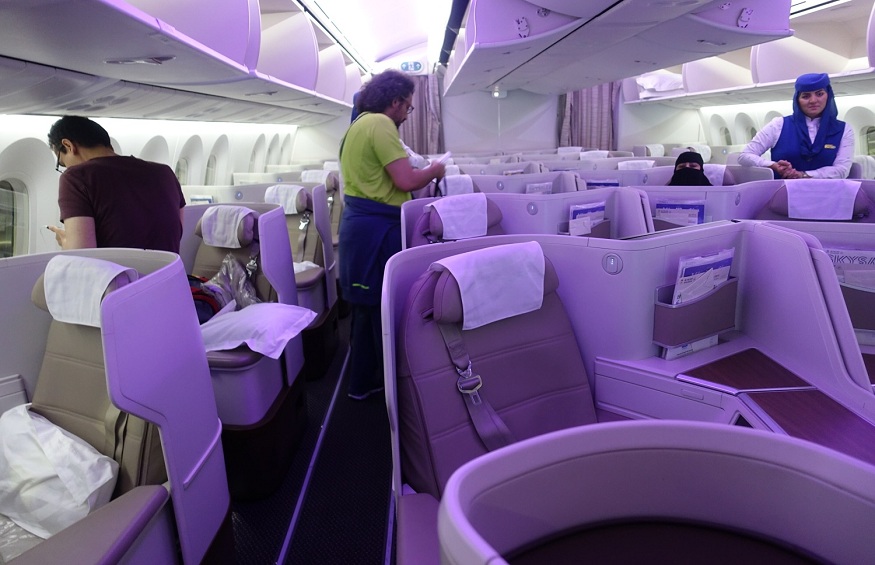 Usually, we don't tell you in detail about the airlines we use to travel around the world. It must be said that we very often travel with first class airlines such as Air France, Emirates, Iberia… But this time to go to Kuala Lumpur , we traveled with Saudia Airlines. An airline of the Skyteam alliance and not (yet) very well known on the French market. Faced with the concern of our loved ones, we have decided to present it to you, to give you our opinion and above all to tell you about our flights with Saudia Airlines.
SAUDIA AIRLINES, LITTLE KNOWN AND YET CHEAP
Saudia Airlines, is none other than the national airline of Saudi Arabia . It has been a member of the Sky team alliance since 2012 and operates flights from major cities in Europe.  This airline, which has existed since 1945, is not (yet) very well known in France. It was by comparing the prices to go to Kuala Lump that we discovered it.
Much cheaper than its competitors (even in high season), Saudia Airlines offers daily flights departing, in particular, in Europe from Paris, Brussels, London or Barcelona. They serve the United States (New York, Washington, Los Angeles), Asia and the Middle East (Abu Dhabi, Beijing, Dubai, Delhi, Hong Kong, Jakarta, Kuala Lumpur, Colombo, etc.) as well as the Africa (Marrakesh, Cairo, Alexandria, Tunis, Khartoum).
In our case, we paid €470 per person (checked baggage and meals included) for our return flight from Paris to Kuala Lumpur. Departure in January and return in April. With the other airlines, we were more around 700 – 800€. Quite a difference! But is traveling with Saudia Airlines safe? Is it a good experience? And above all, did we get our money's worth?
THE PARTICULARITIES OF FLIGHTS OPERATED BY SAUDIA AIRLINES
Before talking to you in detail about our flights with Saudia Airlines, you should know that traveling with this airline involves some small particularities .
To know :
Mandatory stopover in Riyadh or Jeddah.
No alcohol served on board (only fruit juice or water) and at airports.
Prayer space in all aircraft.
Diffusion for about 1 minute of a prayer before each takeoff.
Blurring / censoring of sex scenes in films / series broadcast during flights: necklines and mini-skirts are notably blurred and sexy scenes are cut during editing.
Apart from these few features, everything else is identical to other airlines (private personal screen, wide choice of films and series, wifi on board (paying), blanket and sleeping accessories provided, meals, etc.). Unlike Emirates for example, the flight attendants are not dressed in gray and red but in blue!
Finally, there is no need for a visa for Saudi Arabia when traveling with Saudia Airlines and transiting through one of the country's international airports. In addition, be aware that you will not be able to leave the airport because Saudi Arabia does not issue tourist visas. More info: Saudi Arabia Diplomacy .
OUR FLIGHTS WITH SAUDIA AIRLINES
Now let's talk about our experience with Saudia Airlines. To make Paris – Kuala Lumpur with this airline, we had to make a stopover in Riyadh. Taking off from Paris at 11:25 a.m., we arrived 20 hours later (the next day at 1 p.m. (local time)) in Kuala Lumpur. 1:50 p.m. flight and 4:45 a.m. stopover.
PARIS – RIYADH BY BOEING 777
1st flight of the journey, Paris – Riyadh. 6h10 of trouble -free flight aboard a boeing 777 in very good condition, three-quarters empty. So inevitably when the plane is three quarters empty , the flight can only be pleasant. Nothing special to report on this flight. We took off on time and landed on time. Between two, we had the right to a warm welcome from the air hostesses, to good films (with a few deleted scenes) and above all to a very good meal .
4H45 LAYOVER AT RIYADH AIRPORT
Moment dreaded by Elodie and by (a priori) many travelers, the stopover in Saudi Arabia. In our case, we had a 4h45 stopover in Riyadh (the most important airport in Saudi Arabia).
When we got off the plane, we went through a security check with our cabin baggage scanned and that was it. Riyadh airport is quite pleasant and ultimately classic. There is a duty-free, vending machines, exchange offices, cafes, a Domino Pizza, a Burger King (credit cards accepted and no charge if you pay with N26. More info: Banks to travel without ruin itself ), a smoking room, a large central fountain and … prayer rooms.
Rest assured ladies, you will not need to wear a partial or full veil to circulate in the airport. Just cover your shoulders and knees. Valid for men as well. On the other hand, disappointment, no free wifi in Riyadh airport. Finally yes but we have never managed to connect to it.
RIYADH – KUALA LUMPUR BY BOEING 780
After these 5 long hours of stopover, we board (in the middle of the night) for our second and last flight. This time towards Kuala Lumpur. As with the first flight, no delays on departure and arrival. Everything went very well (perhaps the effect of the pre-take off prayer). This time the plane was full. During this flight, we had the right to 2 meals (1 dinner at 2am (!!!) and 1 breakfast at 11am) and no turbulence. Arrived in Kuala Lumpur, we collected our luggage without any problem. In short, perfect!
KUALA LUMPUR – PARIS WITH STOPOVER IN JEDDAH
For our return flight, it was in Jeddah that we stopped over for 3h30. Taking off from Kuala Lumpur at 7:30 p.m., we arrived the next day at 8:30 a.m. (local time) in Paris. 15h flight and 3h30 stopover.
KUALA LUMPUR – JEDDAH
Nothing special to report on this flight except the ban on boarding in shorts. Departure and arrival on time. 4 hours of flight during which we had two meals. Our flight was full.
3H30 LAYOVER AT JEDDAH AIRPORT
Although Jeddah airport is located just near Mecca, the standard of this airport is quite disappointing . A duty free, three cafes and that's it. No wifi. Jeddah airport is full of travelers in transit. Small peculiarity of the airport, the 20 minutes by bus necessary to reach the airport from the plane and vice versa.
JEDDAH–PARIS
Trouble-free night flight. Departure at 3:30 a.m. and arrival at 8:30 a.m. Once again, the plane was full and the meals good. Nothing special to report.
Apart from a few specific constraints / rules, we did not notice anything special on our flights with Saudia Airlines. Our 4 flights went well . With its competitive fares,  Saudia Airlines intends to compete well with other Middle Eastern airlines for flights to Asia. Short stopovers in the middle of the night make it possible to arrive in Asia or Europe in the morning.