How to Immigrate to UK and Find Jobs for Indian Citizens
5 min read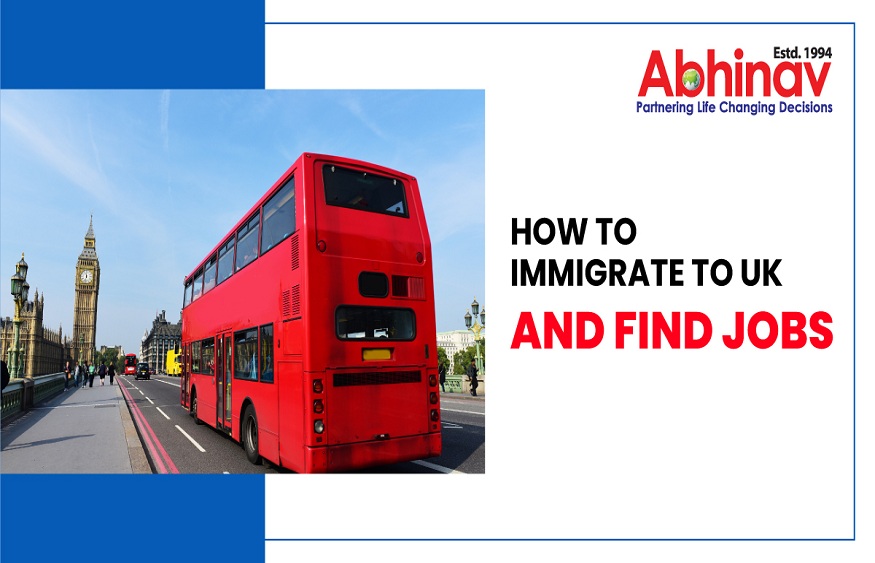 The increase in job opportunities in the UK has been steady in the past few years, resulting in aiding the incomes of households in the last 7 years. The booming job market in the UK has benefitted ethnic minorities and individuals with comparatively lower qualifications. If you're the one looking over how to immigrate to UK as a skilled worker, you are at the right place. Here, we will be going to discuss some of the genuine ways for immigration and finding jobs in the UK.
How To Immigrate To UK – Typical Visa Options
So many ways you can consider immigrating to the UK and that completely depends on your goals. Some of the most typical options are:
Skilled Worker Visa
This is a UK skilled worker visa – the most famous one among skilled workers. This helps you (if you are a skilled worker) for an eligible occupation for an approved employer. What you need is a job offer from a U employer, a certain amount of salary, a certificate of sponsorship, and lastly, English proficiency. The visa is nothing but a replacement of a Tier 2 (General) work visa if you remember.
Global Talent Visa
If you're a highly skilled individual with the area of fields, such as science, engineering, humanities, medicine, digital technology, arts, and culture, you are eligible. You don't need to show any kind of job offers but the only thing you need is to be endorsed by a recognized organization as a potential leader in the field.
Student Visa
This visa is for students looking for their educational career in the UK at an approved educational institution. When applying for this visa, make sure you have a course that is being offered, sufficient funds to support your stay while studying, and a minimum level of English language proficiency level. The best thing about studying in the UK is part-time working opportunities that are usually 20 hours/week, currently allowed, and full-time work opportunities when you are on break. After finishing your studies, you can apply for a graduate visa for 2 years, and 3 years if you aspire to a Ph.D. program.
Family Visa
This visa is for people who desire to join family members who are already British citizens or settled in the UK. You must demonstrate your link with a family member, complete the financial requirements, and speak English fluently. The length and terms of your stay are determined by your relationship with your family member.
What is a UK skilled worker visa?
The UK skilled Worker visais a permit that allows employers to sponsor non-UK nationals to work in the UK in eligible, skilled roles. The visa is open to individuals who attain 70 points by meeting the eligibility requirements, such as skills and salary level, English language ability, and having a qualifying job offer from a UK employer with a valid sponsorship license.
The Skilled Worker visa makes provision for spouses, durable partners, and dependent children to apply to join the main visa applicant in the UK as Skilled Worker dependents. This visa is usually permitted for up to 5 years. Once you complete the stipulated time, you will be eligible for "Indefinite Leave to Remain" in the UK.
The UK skilled worker visa application needs the following requirements:
your certificate of sponsorship reference number (which your employer will provide you with);
your English proficiency proof;
a valid passport or other document proving your identity and nationality;
your job title and annual salary;
your job's occupation code;
The employer's name and their sponsor license number (which will be on your certificate of sponsorship).
Note: The job offer with a valid certificate of sponsorship does not give you a guarantee of the successful grant of a UK Skilled Worker visa. The prospective employee must meet all the other relevant criteria too. The Home Office will also consider any possible grounds for refusal, including any criminal record or immigration violations.
How to find jobs in UK for Indians?
Finding Jobs in UK for Indianscan be challenging but not impossible. There are many factors that affect your chances of getting hired, such as your skills, qualifications, experience, network, etc. Here are some tips to find jobs for Indians in UK:
Do Your Research
First thing first, before applying for any job in the UK, make sure to check all the relevancies as there are certain jobs that might do fraud with your candidacy.  So you must do your research properly, which eventually helps you in conquering interview preparation, your interests, and your passion for your job.
Update Your Resume And Cover Letter
You must update your current resume and cover letter as the UK job market needs. Both documents must be clear, concise, and professional. Make sure you highlight all of your skills, educational backgrounds, and technical expertise, if any.
Use Online Platforms
There are many online resources that can help you find the rightful jobs in UK for Indians, such as job boards, social media, recruiting agencies, and so on. These platforms, especially social media allow you to look for job openings, submit your Resume, create a profile, network with employers and recruiters, and apply for the opening positions you find.
Network And Connect
Networking can help you to getjob referrals, and understand the UK job market.Many professional social media platforms, like LinkedIn, are there to look into relevant jobs. There, you can connect with prospective employers or recruiters. You have many options like communities, and groups to join and discuss the job opportunities in the UK. You can join webinars whenever you find them as they provide relevancies about the job and great insights.
Prepare For The Interview
If you get a chance to attend the interview, prepare well. Go through your Resume and cover letter properly and practice with common interview questions. Dress properly as per the requirements, and have a confidence level high to crack down on the interview.
For more information regarding how to immigrate to UK, contact our authorized immigration consultant at 8595338595 or [email protected].