Discovering the pretty and colorful towns of yucatan
4 min read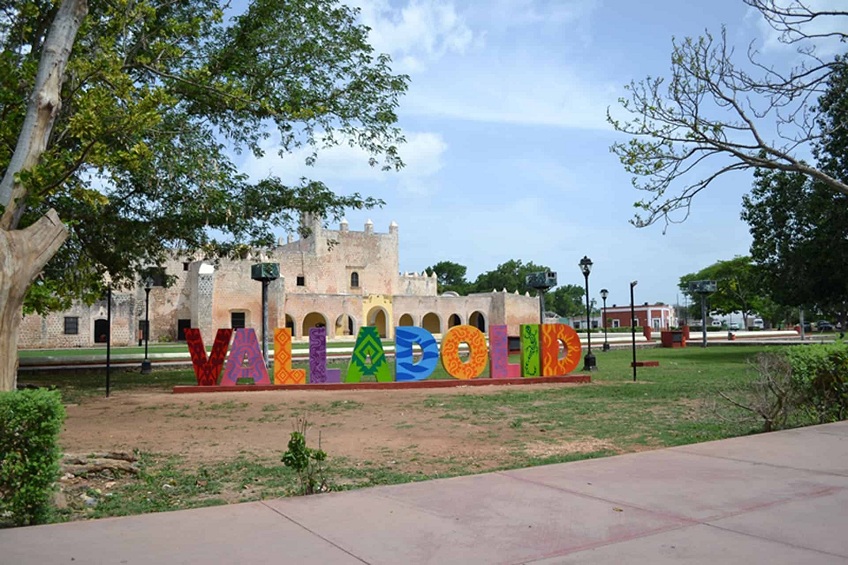 As you know, our 2-week Yucatan road trip allowed us to discover a good part of the Yucatan peninsula. A trip where we alternated visits to archaeological sites , swimming in cenotes, beaches or cities. Focus on 4 pretty colorful towns in Yucatan that blew our minds.
DISCOVER THE COLORFUL CITY OF VALLADOLID
Valladolid is the first colorful city in Yucatan that we visited. Indeed, its strategic location (150 km from Cancun, 100 km from Tulum and 150 km from Merida) allows you to discover some of the jewels of the peninsula. While avoiding hours of driving. This is particularly the case for Chichen Itza, Rio Lagartos, the ruins of Coba or many cenotes (Oxman, Xkeken, Samula, Suytún, etc.). Apart from its location, it is its size and its very cool pace of life that make Valladolid enjoyable.
Organized around the Parque Principal Francisco Canton Rosado, it is home to beautiful alleys with colorful facades. Here no dominant color but a range of colors. We go from orange with the Santa Lucia church to yellow ( pale ) with the Convento de San Bernardino, to red with the Bazar de Comida, passing through all the colors of THE most colorful and beautiful street in Valladolid: Calzada de Los Frailes. A row of colorful buildings where cafés, shops, boutique hotels and houses follow one another. The adjacent alleys are also colorful even if they are in less good condition.
Even if no street in Valladolid is completely pedestrian, it is very pleasant to walk there to admire the beautiful colors.
WHERE TO SLEEP IN VALLADOLID?
Casa Tunich Naj : An explosion of color combined with a good touch of modernity, that's what sums up this hotel. Deluxe queen bed room with private bathroom, swimming pool, breakfast, air conditioning and wifi from €50 per night with free cancellation
Casa Tia Micha : Occupying a brightly colored colonial-style building, the Casa Tia Micha hotel offers deluxe double rooms with private bathroom, swimming pool, breakfast, air conditioning and wifi from €85 per night with free cancellation . A Mexican atmosphere in the heart of downtown.
Hotel Zentik Project & Saline Cave : a cenote just for you directly in the hotel… It is in this upscale establishment decorated with 12 murals by local artists that you will relax in a king room with balcony, view on the garden, private bathroom, swimming pool, breakfast, air conditioning and wifi from €142 per night with free cancellation. A true little corner of paradise in Valladolid
IZAMAL, THE YELLOW CITY OF YUCATAN
Unlike the other 3 colorful cities of Yucatan in the article, here in Izamal only one color is present. Namely: yellow. All the facades of the historic center are yellow, whether houses, shops, hotels or churches, everything is yellow in Izamal. It would seem that this choice (to repaint everything yellow) would follow the visit of the pope in the 90s. The goal was to honor his visit to Izamal. The least we can say is that he must have enjoyed it. The historic center is really beautiful!
No need to look for a particular street in the historic center, everything is yellow. Just climb to the top of the Kinich Kakmó pyramid to realize this. Walking through the historic center of Izamal, you cannot miss the Convento de San Antonio. An imposing and magnificent yellow convent that overlooks the historic center. Finally, do not miss the small Remedios church located around the Parque de los Remedios which is really very beautiful.
Even if it's only for a few hours, take the short detour on the road between Mérida and Valladolid to go for a walk in the yellow town of Izamal, certainly one of the most beautiful colorful towns in Yucatan.
WHERE TO SLEEP IN IZAMAL?
Hotel San Miguel Arcangel : Very close to the main square of Izala, this superb Mexican-style establishment will immerse you in the heart of the local culture. Rooms with private bathroom, breakfast, air conditioning and wifi from €35 per night with free cancellation.
Hotel Rinconada del Convento : Located just at the foot of the Saint Anthony Convent in the heart of Izamal, this beautiful Mexican-style establishment offers rooms with private bathroom, swimming pool, breakfast, air conditioning and wifi from €47 per night with free cancellation.
MÉRIDA AND ITS EUROPEAN-STYLE COLONIAL ARCHITECTURE
Radical change of colors and size with Mérida. The state capital of Yucatan is a very large city. Here in Mérida, there are several places to admire colorful facades. We started by walking along the Champs-Elysée de Merida (the Paseo de Montejo). A long avenue lined with huge mansions with colonial architecture and European style. And mostly colorful.